Virtual training Facilitating (Online) Co-Creation: The Fundamentals of the Co-Creation Forum and the Art of Facilitation
What participants say about the training… 
The training renewed my passion to foster collaboration within my team and across our university and the surrounding community. The process of learning was exceptional, leading the workshops by example and constantly providing new ideas for icebreakers and facilitating techniques. We were taken through the process of co-creation and guided on how to run a mini-forum ourselves, learning by doing. Immediately I began using the learnings from the sessions 
and I continue to develop my practice.
– Leah Bortolin, Program Advisor | University of Calgary
This is the most productive training you will attend. You don't just learn about the co-creation process; you become a part of it—you are fully immersed in the methodology from beginning to end. Not a moment is wasted. This training will change the way you think about meetings and events forever.
– Patrick Oetting, Program Manager | Rising Tide Foundation
The facilitation training was exceptional as both a learning experience, and as a testament to the ability to use modern technologies to have a great chance to learn virtually. I have never been in a classroom-type environment with such active participation, which the process itself helps to drive. This was not one of those usual "too cool for school" type environments, but rather one where everyone was excited to push themselves and the rest of the group to learn more about what it takes to run powerful meetings and to drive the meaningful cooperation that makes humans capable of great things.
– Gabriel Green, Marketing Assistant | State Policy Network
The facilitation training was fabulous. It really gave me confidence in leading meetings and events online, in addition to giving me more confidence in facilitating.
– Beth Deuermeyer, Ph.D, Program Manager, Education Concierge Services  | Texas A&M Innovation Partners, Texas A&M University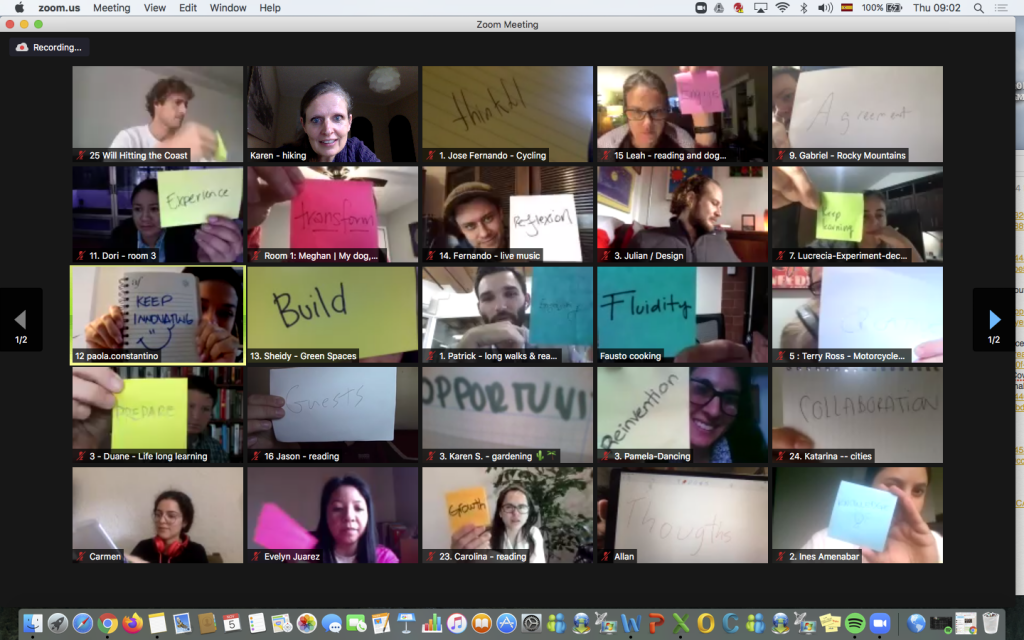 Call it a walking, grab-a-post-it-and-sharpie, flipped conference or unconference. The co-creation forum is purpose-driven and solution-oriented, and engages participants actively.
It is a superior way to run a meeting as it leverages the expertise, knowledge and experience of everybody in the room, leaving no potential untapped. It is based on the same principles that make free markets so effective: dispersed and tacit knowledge, a drive for creating value, free choice and the power of self-organization.
The process transforms top-down managed meetings into constructive environments where co-creation and bottom-up collaborative problem resolution flourishes, and can be equally applied inside the classroom.
During the training you will experience the forum as a participant and in any other role you choose. You will get familiar with what happens behind the scenes of organizing a co-creation forum. You will learn to know and prepare the ingredients for success, cultivate the ideal mindsets and practice key facilitation skills. You will learn how to use online tools for visual collaboration and stretch your Zoom abilities. 
The training is experiential and engaging, so be ready to roll up your sleeves! You will learn by exploration and experimentation, putting theory into practice, observing and reflecting. 
The facilitator is Karen Maeyens, designer of learning experiences and events that foster co-creation, and lead facilitator with years of facilitation and teaching practice. 
In order to make our time together as effective as possible, and to reduce the Zoom time of the training, you will be requested to do about 2 hours of independent study and practice before and in between the sessions. 

This is what the program looks like:  
Tuesday March 9th: 2:00 p.m. to 2:40 p.m. MT (40 min.)
Learning a new language: Mural

| Getting proficient in Mural
Wednesday, March 10th: 2:00 p.m. – 5:00 p.m. MT (3h) 
Cultivating mindsets for co-creation

Exploration before explanation: a virtual co-creation forum

The co-creation format in a bird's eye view

Close up: the facilitator's role
Thursday, March 11th: 2:00 p.m. – 5:00 p.m. MT (3h)
Facilitation basics: polishing your listening and questioning skills

The agenda: key to a successful meeting or class

Getting ready for action: unwrapping the project
Monday, March 15th: only for project owners and facilitators*: 4:00 p.m. – 5:30 p.m. (1h 30min)
*You will get the chance to choose the role you want to play in the forum on Wednesday 17th.
Further unwrapping of the project 

Setting up the station: prototype 1
Tuesday, March 16th: 2:00 p.m. – 4:00 p.m. MT (2h)
A closer look at virtual icebreakers and energisers

Facilitation Basics continued: honing your brainstorming and clustering skills

Why would we want to make our thinking visible and how do we do so? 
1 additional hour for project owners and facilitators: 4 p.m. – 5 p.m. (1h)
Wednesday 17th: 2:00 p.m. – 6:00 p.m. MT (4h)
Setting up for success: reviewing the roles

Learning by doing: hosting the forum

Celebrating success: what worked well?

Mistakes are gifts: what can we do differently next time?

Wrapping up the learning
Fee:
USD $990 – Early bird: USD $850

 
Early bird ends on February 7th. 
If you have any questions please reach out to formacioncontinua@ufm.edu
If you wish to participate: APPLY HERE
To further help you clarify your understanding of the co-creation format:
Facilitation training at UFM May 2019